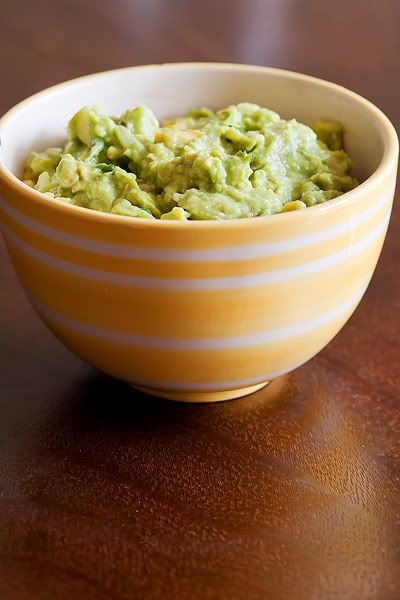 I love Guacamole, and yet, it's something that I rarely make at home. I don't know why. It's full of heart healthy fat and tastes so good, that I always wonder why I don't make it more often.
This guacamole isn't your typical run-of-the-mill guac. It's packed with vitamin rich fruit!
Yep. You heard me. Fruit.
Now hold on there a minute, before you start screeching the brakes, it really is worth a try.
Sweet mangos, juicy peaches, tart granny smith apples, and fresh basil turn this guacamole into something truly special.
I added a little cilantro too, for the traditional zippiness (is that a word?).
Serve with tortillas chips, or if you're trying to be a little more conscious of your waistline, scoop it up with fresh celery spears or sweet pepper strips.
1 mango, peeled and diced

1/2 yellow peach, peeled and diced

1/2 Granny Smith apple, peeled and diced

1/4 habanero pepper, seeds removed, minced (optional)

1 tablespoon fresh chopped basil

2 tablespoons fresh chopped cilantro
1. Cut each avocado in half, remove the pit, and slice the flesh into small cubes. Scoop the cubes into a medium bowl, and mash with a fork until chunky.
2. Stir in the lime juice, diced onion, mango, peaches, apple, habanero pepper (if using), basil, and cilantro. Season with salt and pepper to taste. Enjoy!
(adapted from Shape, September 2011)