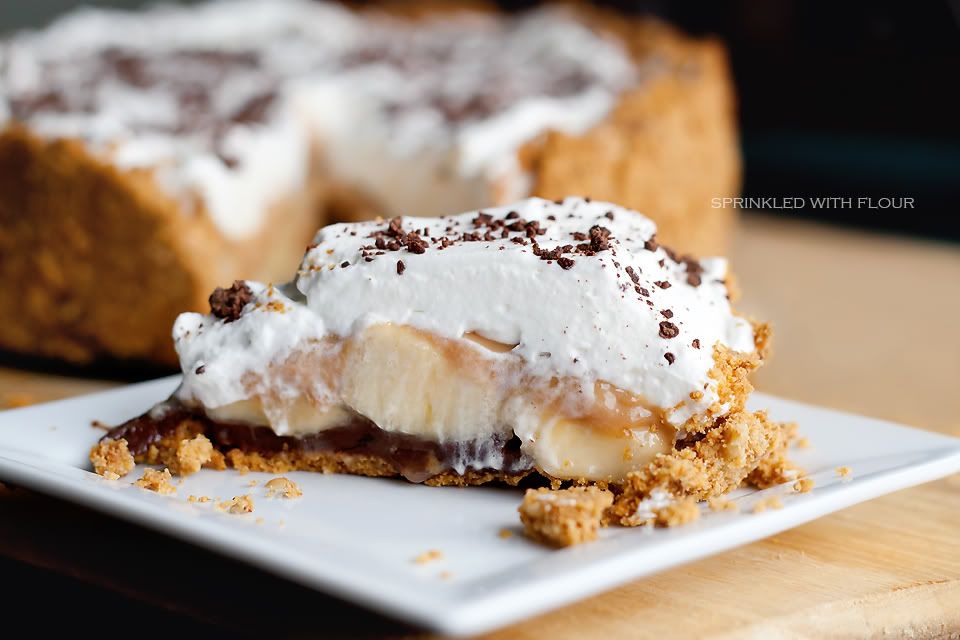 I'm sorry it's been so long since my last post! I've been putting a lot of time into developing my photography skills, and as a results I've been focusing more on portrait photography lately. But never fear, I won't be leaving my foodie friends in the dust. Here is a peace offering to get those saliva glands working, this is a truly delicious dessert that is currently sitting in my fridge, making it impossibly hard for me to stick to my diet.
I love Banoffee pie (banana + toffee for those wondering at the strange word), and when I had some bananas reaching the point of no return, I decided to make this dessert that I haven't had since I left Wales. I wanted to switch it up a bit, so I added a layer of peanut butter chocolate over a toasted walnut-graham crust. Layered with the typical sliced bananas, gooey toffee flavor filling and fresh whipped cream, this really made my day!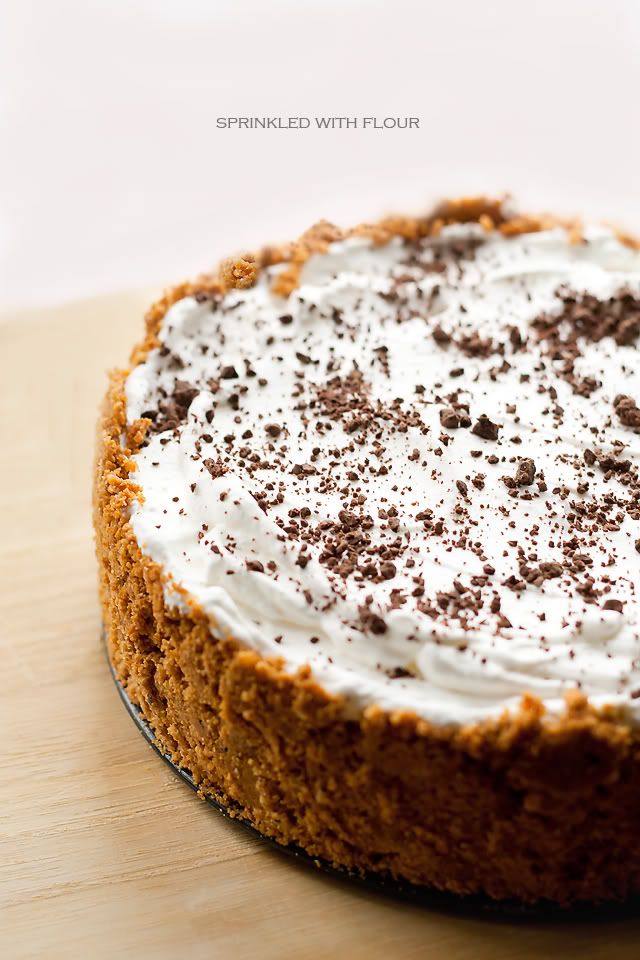 Banoffee Surprise Pie
Printable Recipe
Filling:
2 (14oz) cans sweetened condensed milk
4 ripe bananas
juice of 1/2 lemon
1 tsp vanilla extract
1 cup heavy cream, whipped
6oz semi sweet chocolate chips
2 tbsp butter
1/4 cup peanut butter
Crust:
4-5 tablespoons butter, melted
6oz graham crackers, crushed into crumbs
2/3 cup toasted walnuts, ground
Place the unopened cans of milk in a large pan and add enough water to cover them. Bring to a boil, then reduce heat and let simmer for 2 hours, topping the water level to keep the cans covered. Carefully lift the hot cans from the pan and let cool.
Preheat oven to 350F. Grease a 9-inch tart pan or spring-form pan with butter. Place the remaining butter in a bowl and add the crushed graham crackers and ground nuts. Mix together well, then press the mixture evenly into the base and up the sides of the pan. Bake for 10-12 minutes, then remove from oven and let cool.
Peel and slice the bananas and place in a bowl. Squeeze the lemon juice over the bananas, add the vanilla extract and mix together. Place the chocolate chips, 2 tablespoons butter, and the peanut butter in a microwaveable bowl. Microwave on low until the mixture is melted, stirring frequently.
Gently spread the chocolate mixture over the base of the cooled crust (you won't need all of it), and place in the freezer for a few minutes until the chocolate has hardened. Now spread the banana mixture over the chocolate layer in the pan, then spoon the contents of the cooled cans of condensed milk over the bananas. You may not need to use all of the condensed milk. Top with a layer of whipped cream. You can garnish the top with grated chocolate, chopped nuts, or whatever your heart desires! Eat and enjoy.