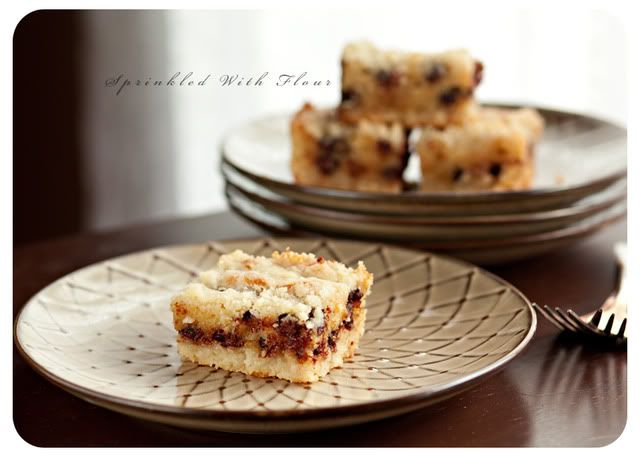 I had a vision last night. Actually, I seem to have them rather frequently lately. My recent nightly visions are of the 4 ft tall variety. The kind that come adorned in Spiderman pajamas, carrying well worn stuffed animals, and who like to climb into bed with you. Which somehow always ends with me taking a knee to the nose or an elbow in my stomach.
My child is not graceful.
So as I was laying in bed, trying to go back to sleep - not an easy task when 40 pounds of knees, elbows and flailing limbs has you in his grasp - I began thinking of food. I've been throwing around variations to my Blackberry Crumble Bars for a while, and last night I really wanted to turn these into a chocolate lovers best friend.
It was simple really. Just swap the berries for chocolate chips, and voila! Chocolate Chip Crumble Bars. These turned out so good. I'm talking lick the pan good. Good thing we have company coming tomorrow, otherwise I would be in trouble if I had these sitting around all to myself.
Chocolate Chip Crumb Bars
Servings: 9 squares
Printable Recipe
Crust & Topping:
1 1/2 cups all-purpose flour
3/4 cup sugar
1/8 tsp salt
3/4 cup (1 1/2 sticks) butter, chilled
Filling:
2 eggs
1/2 cup brown sugar
1/2 cup white sugar
1/2 cup sour cream
6 tbsp flour
pinch of salt
1/2 tsp vanilla extract
1 cup milk chocolate chips, plus 1 tbsp flour
Directions:
For crust/topping
:
Preheat the oven to 350 degrees. Grease a 9x9 inch baking pan. Combine the flour, sugar, and salt in a medium bowl. Cut the butter into 1/2-inch cubes, and add to the flour mixture. Using a fork for pastry cutter, cut the butter in until mixture resembles coarse crumbs. Reserve 3/4 cup of the mixture to use as the topping. Press the remaining mixture into the bottom of the pan, and bake for 10-12 minutes. Cool for 10-15 minutes.
For filling

:
Whisk the eggs in a large bowl, then add the white and brown sugar, sour cream, flour, salt and vanilla extract. Toss the chocolate chips with the tablespoon of flour, this helps prevent the chips from sinking to the bottom. Gently fold the chocolate chips into the batter and pour the mixture over the crust. Scatter the remaining flour mixture evenly over the filling, and bake 35-45 minutes.
Cool for 1 hour before cutting into bars. Serve with fresh whipped cream, cold ice cream, or just eat straight from the pan!